VLink™ is an IP-software multi-channel / multi-access communications solution that intelligently connects to RTS intercoms, creating the optimal fusion of hardware and software capabilities. VLink is highly scalable to thousands of soft keypanel users, supports virtually an unlimited number of point-to-points and PLs, SNMP traps, AES encryption, and recording.
VLink consists of the following core components:
Link Virtual Matrix / Server: multi-threaded, server-side summing/mixingengine with integrated SIP support
VLink User Interface: client-side GUI for non-blocking, multi-channel, multiaccesscritical communications
VLink Device Interface: software interface to easily bridge disparatecommunication systems including hardware intercoms, two-way radios, and public/private telephone networks
System Administration Application: administrative user control for dynamic configuration and monitoring of VLink from any workstation on the network
Additional VLink Options:
VLink Redundancy: Addredundant ports to your VLink intercom or SIP interface
VLink-Lite: cost-effective wireless intercom solution that runs on virtually any iOS or Android device and scales from to 8PL's and 64 users
VLink-Recording: Audio Recording: Enables audio recording on a per-client basis
VLink-Encryption: Adds AES 256-bit encryption to system
VLink has been used by major broadcasters for communications in News, Sports, and Entertainment programming. Some of the ways Broadcasters can use VLink include:
Coordinating the logistics and technical quality for distribution of broadcast content;

Providing control room to remote studio communications;

Enabling remote producer communications to home base;

Local edit room communications;

Replacement of analog intercom telephone interfaces with VLink acting as a SIP interface server;

VLink on iOS and Android Smartphones and Handhelds for studio wireless communications and belt-pack applications.
Unleash the Power of the Internet With VLink Cloud
Your private matrix communications cloud and interoperability solution can be provisioned in minutes and is ideal for interfacing communications systems from disparate locations. The possibilities are limitless.
VLink truly ignites the imagination with all the potential of new age communications, coexisting with traditional matrix intercom frames, supplementing traditional hardware intercom panels, and operating locally or thru internet-based cloud services.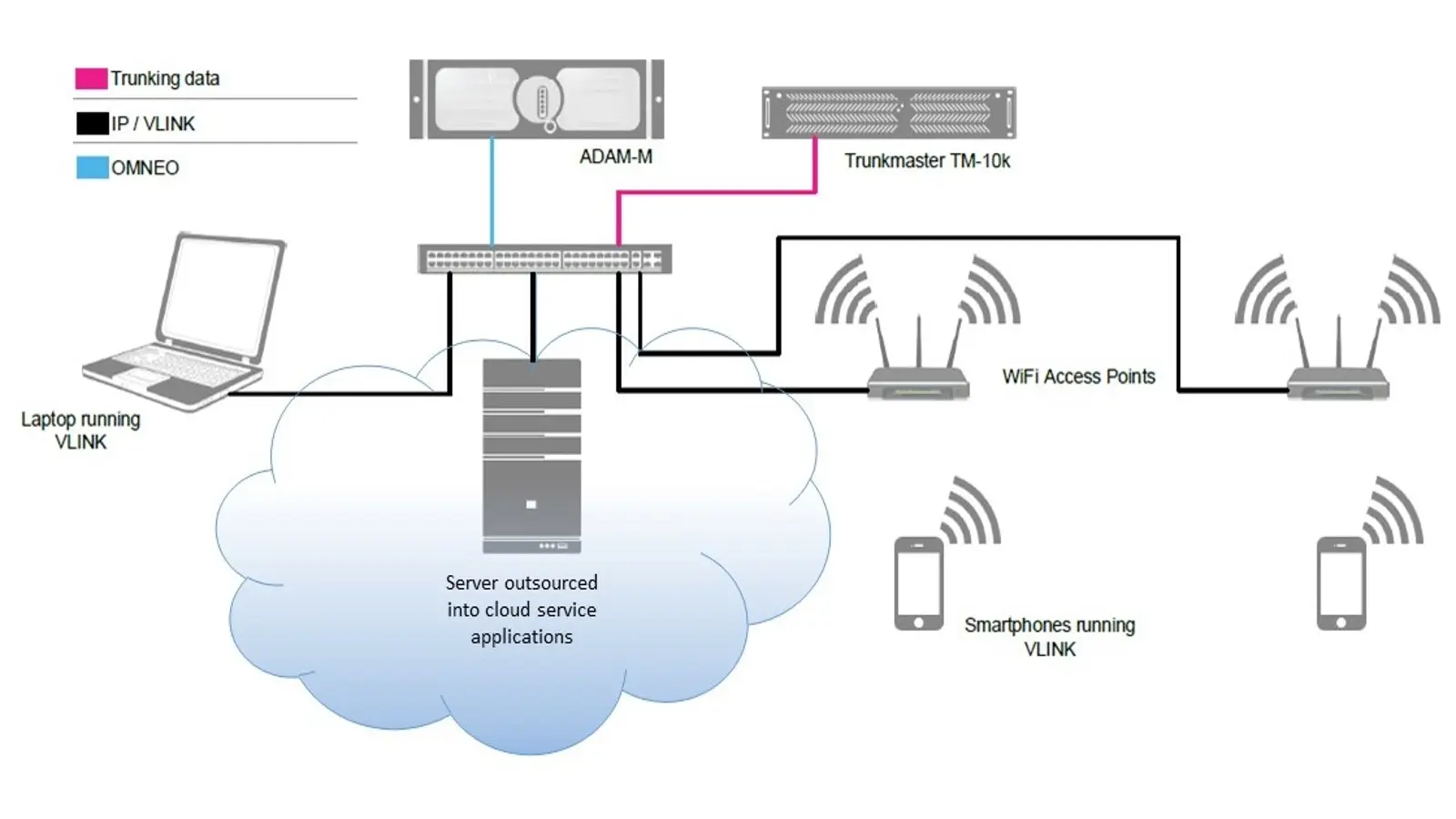 VLink Lite
48kHz WebRTC Audio
Improve your comms experience with high-quality audio. 6x better audio quality than a standard phone call.


No new equipment necessary
Use VLink Lite on your existing smartphones and computers.


Accessible anywhere
VLink Lite isn't tied to a single location like traditional comms. Access your system over Wi-Fi or cellular.


Video Monitoring
VLink Lite is ideal for broadcasters. Monitor video feeds and comms all from one interface.
VLink Lite is a cost-effective wireless intercom solution that runs on virtually any iOS or Android device. The solution supports point-to-point and partyline. Connect up to 64 users and 8 partylines to a single server. VLink Lite works over WiFi, cellular, or satellite.
VLINK or VLINK Lite?
VLINK
VLINK Lite

Intelligent Trunking to ODIN / ADAM

VLINK

✓

VLINK Lite

WebRTC Control Panel

VLINK

✓

VLINK Lite

✓

Maximum Number of Partylines

VLINK

200

VLINK Lite

8

Maximum Number of Ports

VLINK

200

VLINK Lite

64
VLink SIP
The VLink Telephone Interface solution enables seamless integration between phone systems with SIP support and RTS ADAM or ODIN intercoms. The solution is ideal for use in broadcast studios and mobile units to provide IFB, camera coords, and conferences. Configuration, monitoring, and establishing calls is handled through a single web page. Features include:
Intuitive GUI that displays all phone lines color coded by status: on-hook (gray), connecting (green flash), off-hook (green), disconnecting (red flash)

Individual phone line configuration menus

On-screen dialer

Audio input and output gain level adjustments in +/- 6db intervals
VLink SIP supports analog, MADI, and Dante connections to interconnect audio between phone systems with SIP support and RTS ADAM Keypanels. If Dante is selected, Audinate's Dante virtual sound card is loaded on the VLink server and a RTS OMNEO Dante matrix card is inserted in the ADAM frame.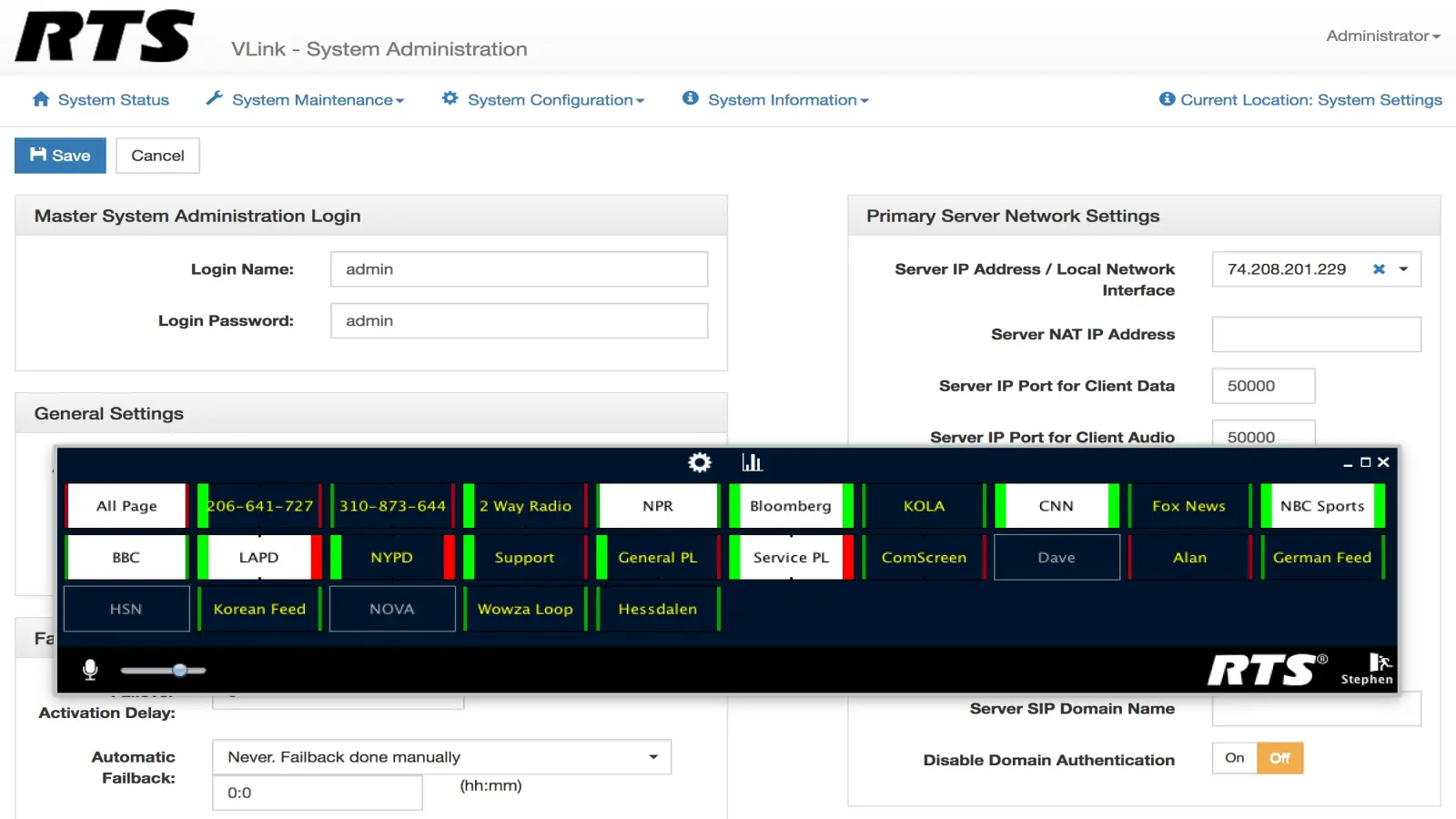 Demo VLINK SIP
VLINK SIP Login:
Username: admin
Password: admin
TIF Monitor Login:
Username: monitor1
Password: MONITOR1
Wireless Intercom on iOS & Android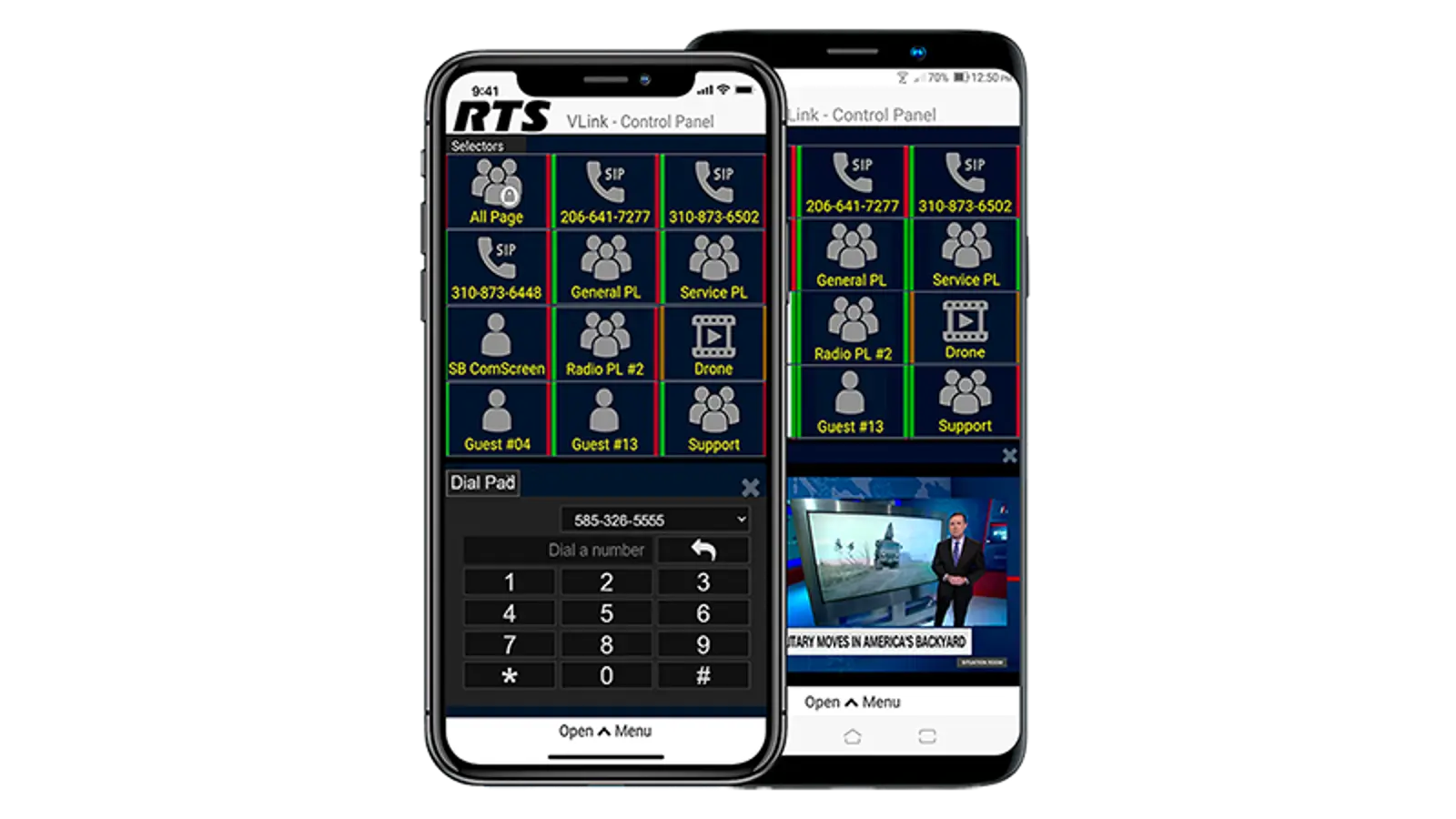 VLink turns the familiar Apple iPod Touch, iPhone, or Android device into the ultimate wireless intercom system.
While traditional systems use the increasingly congested RF (Radio Frequency) and distance limited wireless spectrum, VLink allows communications over standard WiFi, 3G, 4G with no distance limitations between devices and no complicated RF antenna set-up.
VLink allows for a virtually unlimited number of users and channels, and with flexible button programmability can meet the most demanding wireless communications requirements.
Additional Vlink Options
VLink Redundancy
Add redundant ports to your VLink intercom or SIP interface
VLink-Recording
Audio Recording: Enables audio recording on a per-client basis
VLink-Encryption
Adds AES 256-bit encryption to system
VLink-Video I/O
Video Streaming & Output: Enables live video capture and streaming from WebRTC clients as well as output to third party video routers (video must be enabled for all system ports)
Demo VLink or VLink Lite right now!
Using the links below download, install, and login to our VLink demo server. Note, there is nothing to install with the WebRTC keypanel.
Username: "your name"; Password: "guest"; IP address: "rtsvlink.online" (Alternate system on port 50000; HTTP port 50080)
Basic Functionality and Info for Demos
User Interface Selectors (keys) can be configured for Talk, Listen, or Talk/Listen. Red keys are 'Talks' and green keys are 'Listens.'

User Interface Selectors dynamically indicate the state of the associated channel -> offline (gray), online (green and/or red), actuated (bright green and/or red), channel activity (color oscillates), incoming call (fast flash — click on the flashing selector to establish a return voice path), device active tally (slow flash), in-use tally (slow double flash)

VLink enables full multi channel/multi access, non-blocking communications. You can configure the following types of channels: Point-to-Point (private channel between any two operators); Group Call (one caller to many listeners); Party Line (group conference).

FIREWALL INFO FOR NETWORK ADMINS: to connect to the VLink server set up for demos over the public internet allow a TCP connection for data on port 1000 (outbound) and UDP connection for audio on port 1000 (outbound)
VLink Rental
Minimum 3 month purchase.
Minimum requirements to use:

Trunk Master – needs OMNEO card or ODIN.

Standalone VLINK does not require a Trunk Master or OMNEO device.
NOTE: There is no rental of any hardware associated with this VLINK rental proposal. All hardware to be sold as normal.
Vlink Standalone
Vlink with RTS Hardware
Vlink Cloud
Vlink SIP

User Benefits


Vlink Standalone

Communication without a hardware Matrix – cost effective

Point to point or Partyline - flexibility

Decentralized communication from anywhere in the world

Allow for adding additional capacity via a simple license upgrade – scalability

Vlink with RTS Hardware

Communication with Matrix – basic integration or intelligent trunking options

Fixed Point to Point or Partyline - flexibility

Decentralized communication from anywhere in the world

Vlink Cloud

Fully integrated communication with hardware Matrix

Fixed Point to Point, Partyline, IFB, - flexibility

Decentralized communication from anywhere in the world

Matrix is virtualized so no hardware to maintain on site.

Easy creation of redundant servers instance

Vlink SIP

Use the latest telephony technology – POTS is going away!

Fully integrated phone support send and receive

Support for up to 8 separate SIP servers

Support up to 100 SIP lines per server.

Use Case Examples/ target group


Vlink Standalone

Remote Broadcast production

Temporary Live event communications

On-line Gaming Events

Corporate communications "conferencing bridges"

Vlink with RTS Hardware

Remote Broadcast production

Sports Live event communications

Corporate AV events

Vlink Cloud

Remote Broadcast production

Live sporting event communications

Aerospace communications"

Vlink SIP

Remote Broadcast production

Live sporting event communications

Aerospace communications

Industrial application "power utilities"

Requirements

Vlink Standalone

Operating system: Windows 10 Pro x64 or Windows Server 2016 x64 or later

System Memory: 8 GB RAM

Hard Drive: 128 GB SSD (minimum) to 256 GB SSD (preferred)

Processor: A quad core processor will typically run 300 clients under moderate usage.

For larger systems refer to the Vlink technical manual for core requirements

Vlink with RTS Hardware

Standard laptop with dual core processor

Dante Virtual Sound Software installed

TM-10K Trunk Master if Intelligent integration is required

Vlink Cloud

Standard laptop with dual core processor

TM-10K Trunk Master

Vlink SIP

Dante Virtual Sound Card installed for up to 64 SIP lines, for system over 64 SIP lines use a PCI card like Rednet which supports 100 channels total
Let's Talk
RTS and our certified partners are ready to help support you through planning, purchase, and setup. Services available through our network of highly-qualified associates and partners may include:
System Design

Installation

Programming & Commissioning